Game Westward 2: Heroes of the Frontier by Sandlot Games
After the settlement of Hope River is destroyed, fleeing residents deliver news of a devastating attack by the Mad Russian, a treacherous villain bent on stopping any further expansion. Steer the fortunes of three distinctly different pioneers as they establish a new outpost in the unexplored Wild West, and work to uncover the Mad Russian's base of operations. Gather resources, overcome natural disasters and plot a course through new terrain as you guide your settlers to safety and success!
New outpost in the Wild West!
Distinct buildings.
New Sandbox mode.
Mosey on to the sequel in Westward III: Gold Rush
Screenshots:
Click an image to view fullsized screenshot in new popup window
System Requirements:
OS: Windows Vista, Windows XP
Memory: 512 MB
DirectX: 9.0 or later
CPU: P 1.0GHz
Video: 32MB
3D Hardware Accelerated Video Card
Internet: Active Internet Connection
Most Popular Games:
TOP ONLINE GAMES:
Are you like?
Try this game: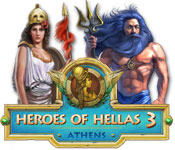 Heroes of Hellas 3: Athens