Game Virtual Villagers 2 the lost children by Big Fish Games
Continue the epic story of the castaways of Isola in Virtual Villagers 2: The Lost Children! Guide your tribe as they rescue a group of lost children and help them survive new adventures. Lead your villagers as they solve all new puzzles and the hidden mysteries of the western shores of the island. Raise children who resemble their parents and uncover new surprises every time you play! The next thrilling episode is about to begin! Will your tribe survive?
New parts of Isola to explore.
Lots of unique items to find.
New surprises every time you play.
Discover a different side of IsolaVirtual Villagers: The Secret City
Screenshots:
Click an image to view fullsized screenshot in new popup window
System Requirements:
OS: Windows 98, Windows 2000, Windows XP, Windows Me, Windows Vista
Memory: 64 MB
DirectX: 7.0 or later
CPU: P800
Most Popular Games:
TOP ONLINE GAMES:
Are you like?
Try this game: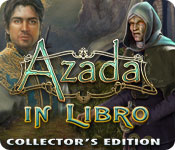 AzadaŽ : In Libro Collector's Edition