Game Rise of the West
This game isn't too easy to figure out on your own, so here are a few tips to get you started...
CHOOSING THE GAME LENGTH AND OPTIONS
Allow Minor Powers: Controls the creation of minor powers. If not selected, no minor powers will enter the game.
Allow Trading of Holding Cards: With this option set, players are free to trade holding cards.
Reduced Languauge Differences: Reduces the effect of languages in the game.
Reduced Operations: Increases the difficulty by reduing the number of operations that each player is allowed in a turn.
Free Running: Speeds up the game by reducing the delays between computer operations (not reccomended for new players).
THE TOP BAR UNDER THE PULLDOWN MENUS
The circle on the left shows the remaining operations, as well as the empire color. To the right is the name, the stature values (millitary, administration, and diplomatic). Next is a color-coded language box with a religion icon (religion and language play a big part in the game). Then comes a list of your current holding cards, which can be played in the game. Finally, the amount in your treasury is at the right side of the bar.
This should be enough to get you started... if you've played wargames before (which you probably have if you're playing this), you can figure out the rest easily.

Distributive size: 540K Windows-95,98,ME,2000,XP,NT
Most Popular Games:
TOP ONLINE GAMES:
Are you like?
Try this game: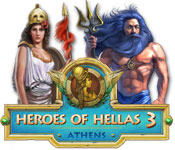 Heroes of Hellas 3: Athens