Game Rampart
This is game Rampart. This game is made in style Real Time Strategy. It is necessary for you to construct a fort to establish guns and to destroy the ships of the opponent. After fight you should repair walls of a fort and establish additional guns.
In game there is a support of the multiplayer game.
Diastributive size: 880K Windows-95,98,ME,2000,XP,NT
Most Popular Games:
TOP ONLINE GAMES:
Are you like?
Try this game: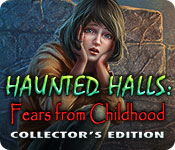 Haunted Halls: Fears from Childhood Collector's Edition