Game Fighter Ace
Object

Shoot down your opponent ten times to win the game.

Controls


You may decide which keys on your keyboard control each function in the game. The default settings for player one are:


Player One Player Two

<S> -- Climb <up arrow key> -- Climb
<X> -- Dive <down arrow key> -- Dive
<C> -- Fire <right arrow key> -- Fire

To assign new control keys, select Control Keys on the menu bar. On the panel that appears, click the circle next to the control you would like to change, then click the box corresponding to the key you would like to assign to that control. Then click the circle for the next control you would like to change and repeat the process. The up, left, down, right boxes represent the arrow keys on your keyboard. When you are finished, click "Done."



How to Play


With your mouse, click on New Game in the menu bar. The game will begin when you take off. To take off, just press the climb button <S>. Fire at the enemy plane by hitting the fire key <C>. Hit the fire key repeatedly for rapid fire.

If you fly off the screen, your plane will appear on the other side of the screen. Bullets, however, can not pass through the "dead zone" between the sides.

If you fly into the top of the screen, your plane will explode.

You may not turn your plane and fire at the same time.

Diving will increase your speed, and climbing will lower your speed.

No points are awarded when the planes collide. You may fly and fire through clouds.

Options


Game -- Click this menu item to access the sound on and off switch and to exit the game.

Players -- Select one player or two players. The option with the check next to it is the currently set option.

Speed -- Select a game speed from 1 (slowest) to 10 (fastest).

Level -- Select a level of difficulty from 1 (easiest) to 10 (most difficult).

Bullets -- When manual bullet mode is set, you fire by hitting the fire key. When automatic mode is set, your plane will fire automatically while you are not steering.
Distributive size: 557K Windows-95,98,ME,2000,XP,NT
Most Popular Games:
TOP ONLINE GAMES:
Are you like?
Try this game: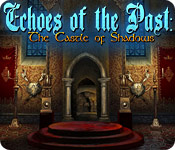 Echoes of the Past: The Castle of Shadows