Game Fated Haven: Chapter One by Basilisk Games
Stop an evil empire and save the land in Fated Haven: Chapter one, an incredible Adventure and Role Playing Game! Overnight a sinister group called the Thanado has risen, and is enslaving people! After losing his best friend, and love, Leif is prepared to do whatever it takes to put an end to the Thanado once and for all. Join a rebellion against the evildoers and save the day in Fated Haven: Chapter one!
Screen Shots:
Click an image to view fullsized screenshot in new popup window
System Requirements:
Most Popular Games:
TOP ONLINE GAMES:
Are you like?
Try this game: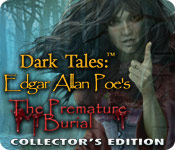 Dark Tales: Edgar Allan Poe's The Premature Burial Collector's Edition