Game Mirror Mysteries by Agents
A young family stops at a mysterious old home for a picnic. As the mother closes her eyes to enjoy the sun, she hears a horrific crash...the kids! As she enters the house, she is confronted by a mystical mirror that has taken her kids and locked them away in a magical world. A quest is placed upon you to not only save the children, but help a unique character in very mystical places. Can you solve the Mirror Mysteries?
Click an image to view fullsized screenshot in new popup window
System Requirements:
Most Popular Games:
TOP ONLINE GAMES:
Are you like?
Try this game: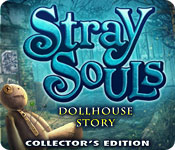 Stray Souls: Dollhouse Story Collector's Edition