Game Escape From Lost Island by NevoSoft
What began as a fabulous vacation cruise quickly turns into a fight for survival! After managing to get off your sinking cruise ship, you find yourself stranded on an uncharted island filled with danger and death-defying challenges! Use your wits to find shelter, avert pirates, escape from natives, and signal for help. Escape from Lost Island features gripping gameplay and a breath-taking story. Do you have what it takes to escape?
Click an image to view fullsized screenshot in new popup window
System Requirements:
OS: Windows 98, Windows 2000, Windows XP, Windows Me, Windows Vista, Windows 7

Memory: 64 MB

CPU: 600 MHz

Video: DirectX

Most Popular Games:
TOP ONLINE GAMES:
Are you like?
Try this game: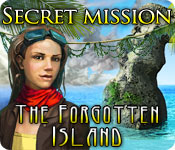 Secret Mission: The Forgotten Island
Help Chanel explore a mysterious island!