Game Pyrotechnica
Pyrotechnica is a 1995 3D first-person and third-person shooter video game developed and published by Psygnosis for the DOS platform.
The game was not as successful as peers such as Descent, but was notable for its highly-regarded soundtrack.
Storyline
The action is set in the cores of ancient stars, where information capsules have been placed by ancient civilisations. Space stations have been built at these locations. However, wingmen, adventurers hired by the Terran Hardlight Corporation who have been working in these locations using their own individual craft, have been captured by adherents, alien cyborgs programmed to defend the precious capsules. The player must pilot his or her own ship and battle the adherents in a bid to free the captured wingmen.
Gameplay
Gameplay takes place in a zero-G 3D environment, a stylised representation of a space station. Players must use their ship's weaponry to destroy enemy ships and complete certain tasks before using an exit portal.
Graphical style
The environment has a somewhat retro feel due to the use of right-angles, a black background, and squares filled with a single colour. These evoke earlier eras of video gaming, in contrast to similar 3D games of the time which attempted a high degree of realism. Pyrotechnica bears a particular similarity to the 1989 title Interphase.
Development
The game runs on DOS and Windows 95,ME,98 and for Windows XP, Vista, Windows 7 you can Download DosBox program and run game frome DosBox!
If so, at your own risk, you may try editing the PCX files in the directories pyro\L?\. Don't do this to your master copy. Room graphics are nearly always arranged vertically - top, bottom, north, south, east, west. Use only the colors already in use. Leave as many pixels at color 0 as possible. Don't try moving doorways.
Laser turrets and heavy laser pods are marked by special colors on the top and bottom graphics and so may be added, removed etc. There is an extra unused tune called pyro3. If you get bored try... cd \pyro\awe32 (replace the awe32 with the appropriate name for your card) ren pyro1.snd old1.snd ren pyro3.snd pyro1.snd
If you are a really sad person you might like to edit the pyro\pyro.msg file, replacing the various messages with things that might amuse you. If you must tamper with the credits file, please leave all original credits intact, and make it clear that a total jerk (ie you) has made these alterations.

WARNING If you knacker anything it's your fault not ours!
Screenshot:


Most Popular Games:
TOP ONLINE GAMES:
Are you like?
Try this game: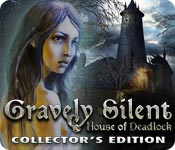 Gravely Silent: House of Deadlock Collector's Edition