Game Deadlock by Accolade
Deadlock is a turn-based, planet-conquering, alien-stomping, anti-matter tank building strategy game with six playable races, including humans.

Greetings, colony leaders!

Soon you will engage several rival colonies on the surface of Gallius IV. I realize that the events of the past few weeks are bewildering, many of you have never run a colony before. Do not worry. All of your colonies should thrive in your more than capable hands (and claws).

Through a special provision of the Compact of Gallius IV, I, Oolan, may provide you all with this portfolio of information. Most of it was gleaned from the files I have in my shipboard data system. The technology, military, and building information is all accurate. However, I have kept the details about the races brief, as the complete history of each culture would fill many volumes! Instead, I have selected only the information that will aid in your strategic planning.

I have also included a brief synopsis that explains how we got into this horrible deadlock. It is up to you to end the stalemate and stop this brewing galactic war. If the Compact is unable to resolve our problems there could be a war as huge as any of our past major conflicts.

Please accept my apologies for tossing this together so quickly. Since the Compact was signed I have been frantically trying to make this as accurate as I can. I find myself in the unexpected position of being your consultant; originally I came here only to help survey Gallius IV! I hope you will find my meager assistance satisfactory.

The planet awaits!

Screenshots:


Most Popular Games:
TOP ONLINE GAMES:
Are you like?
Try this game: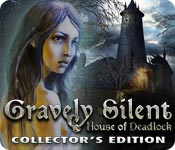 Gravely Silent: House of Deadlock Collector's Edition