Game Al Unser, Jr. ArcadeTM Racing by MindScape

3...2...1...Go!
This is where the talking stops and the action begins. The course that you drive depends on the mode you chose (Championship, Timed, or Practice). Regardless of the mode, you hit the ground running. Your car is under computer control while the countdown begins. Once the count passes 1 -- you are on your own.


Controlling your car

You can set your own controls depend with the Options menu: either keyboard or joystick (which has to be calibrated first).

Steer your car left or right to negotiate bends and avoid the other cars on the course.

Brake when you come up to a particularly tight turn; accelerate along those straights and past your opponents.

If you are using manual gears, remember to down shift when you slow or brake, and shift up when you accelerate again.



The Status Bar

The status bar at the top of the screen shows you some important information which is vital to your success in racing. From left to right this information is:


1. World Lap Record for current course

2. Your Best Lap time for current course

3. Time Remaining before next checkpoint (in Timed Mode) or Time Elapsed for current lap

4. Your position in current race

5. Number of laps completed/remaining in current race*

6. Your current speed measured in Miles Per Hour (MPH)

7. Your current Revolutions Per Minute (RPM)

8. Your current Gear

*The car cockpit also has a few important indicators on display.


Other in-game keys

During a race there are a number of pre-defined keys you can use for pausing the game, quitting, etc.


P Pause game (any key resumes).
Q Quit Race and return to course selection (or Main Menu when in Championship Mode).
Esc Quit Race (IBM PC only).
1 Toggle between showing nothing, a course map, or a (local) scanner.


You can also quit the game via the usual Windows 95 controls (IBM PC only).


Most Popular Games:
TOP ONLINE GAMES:
Are you like?
Try this game: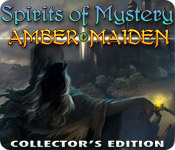 Spirits of Mystery: Amber Maiden Collector's Edition