Download Grim Legends 3: The Dark City Collector's Edition for MAC
Game Grim Legends 3: The Dark City Collector's Edition
Sylvia, a young acolyte of the monster hunting Order, follows the trail of the Order's ex-member Gabriel, who stole the artifact containing an evil creature called Koshmaar. The unleashed monster absorbs the entire city into its nightmare realm and now its fate lies in Sylvia's hands. Accompanied by her trusted mentor Solomon, the young heroine will need to face her ultimate trial and discover a link between the villain Gabriel and her own heritage. As it turns out, there are nightmares buried in the past even darker than demons roaming the vast gothic city.
Next installment of the Grim Legends Series
Gothic atmosphere
Thick plot with multiple twists
Rotatable items you can see from different angles
Beautiful hand drawn graphic
Screenshots:
Click an image to view fullsized screenshot in new popup window
System Requirements:
OS: Windows XP/Windows Vista/Windows 7/Windows 8/Windows 10
CPU: 2.0 GHz
RAM: 1024 MB
DirectX: 9.0
HD: 1051 MB



Most Popular Games:
TOP ONLINE GAMES:
Are you like?
Try this game: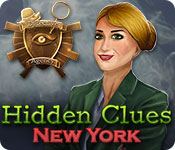 Hidden Clues: New York