Zuma by PopCap Games
The original trailblazer in the action puzzle genre! Fire colored balls to make sets of three, but don't let the chain reach the golden skull or you're history! With over 20 temples to explore and 2 unique gameplay modes, Zuma is a non-stop never-ending puzzle challenge. Let the tribal sounds and music surround you with the world of Zuma. You won't want to come back!
Click an image to view fullsized screenshot in new popup window
Requirements:
OS: Windows 98, Windows 2000, Windows XP, Vista, Windows 7.
Memory: 128MB
DirectX: 7 and later.
CPU: P2 350Mhz



Most Popular Games:
TOP ONLINE GAMES:
Are you like?
Try this game: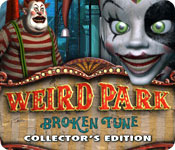 Weird Park: Broken Tune Collector's Edition