Game Luxor 3 by Mumbo Jumbo
Luxor 3, the next smash hit in this awe-inspiring series, takes you on an ethereal journey where your match-three skills are used to battle the power-hungry god of Chaos! Free the spirits of other Egyptian gods by stopping the procession of approaching spheres before they reach the pyramid at the end of their path or all will be forever lost! There are seven unique game modes and many unlockable power-ups, ball sets and shooters! The Battle for Eternal Afterlife begins here, with Luxor 3!
Upgradable power-ups!
New bonus levels.
All new, unique game modes.
Experience where it all began with Luxor
Click an image to view fullsized screenshot in new popup window
Requirements:


OS: Windows 2000, Windows XP, Windows Vista
Memory: 256 MB
DirectX: 8.1 or later
CPU: P2 700
Video: 32 MB DirectX 8.1 Compatible Video Card
Most Popular Games:
TOP ONLINE GAMES:
Are you like?
Try this game:
Customers who bought
this game also bought: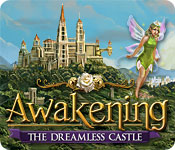 Awakening: The Dreamless Castle

Haunted Manor: Lord of Mirrors