Game Jewel Quest: The Sleepless Star
Track down an incredible jewel in Jewel Quest – The Sleepless Star! Help Percy Park on an epic quest through two continents! Percy discovers that the jewel has been stolen from a Native American village by an unscrupulous jewel collector! Progress through a beautifully illustrated and fully voice-acted story that includes collectible power-ups and quest options filled with your favorite Match 3 gameplay.
Screen shots
Click an image to view fullsized screenshot in new popup window
Requirements:
Most Popular Games:
TOP ONLINE GAMES:
Are you like?
Try this game: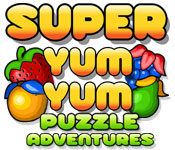 Super Yum Yum Puzzle Adventures
Get back your juicy fruit!