Game Panda Craze by TicGames.
Tik-Ling is trying to make it home to her Bamboo Forest, but the evil Zoo Keepers keep trying to capture her. Your job is to help her escape! Quick reflexes, creative thinking, and a sharp wit are essential to navigating the pitfalls and perils in this addictive game! Play through more than 150 imaginative levels, or create some of your own! There are hours of non-stop fun with a challenge for everyone! Try Panda Craze today!
Screenshots:
Click an image to view fullsized screenshot in new popup window
System Requirements:
OS: Windows 98, Windows 2000, Windows XP, Windows Me
Memory: 128 MB
CPU: P3 800

Most Popular Games:
TOP ONLINE GAMES:
Are you like?
Try this game: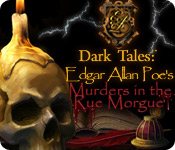 Dark Tales: Edgar Allan Poe`s Murders in the Rue Morgue