Game Gumboy Crazy by Cinemax, s.r.o.
Gumboy has some extraordinary characteristics! Try his rolling, bouncing, jumping, flying and floating fun as you follow him on some Crazy Adventures! Plus, Gumboy can change his size, shape and material - he can take the shape of a sphere, cube or star and can be filled with rubber, air or water! Follow Gumboy through 40 levels with a whimsical, fairy-tale atmosphere and 6 stunning world environments! Let the adventure begin!
Screenshots:
Click an image to view fullsized screenshot in new popup window
System Requirements:
OS: Windows 2000, Windows XP
Memory: 256 MB
CPU: 1 GHz
CPU Video: 32 MB
3D graphic adapter supporting OpenGL

Most Popular Games:
TOP ONLINE GAMES:
Are you like?
Try this game: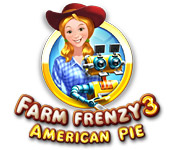 Farm Frenzy 3: American Pie