Game Darkheart: Flight of the Harpies
Challenge an evil presence in this chilling hidden object adventure and save your loved ones before it's too late! Legend spoke of an evil magician who possessed the secret of eternal life which required that he steal the souls of unsuspecting villagers. It seemed as if no mortal soul could stand against this dark power but, according to an ancient prophecy one day there would be someone brave enough to face it! The dark mage sent his Harpies to seize a fresh supply of souls. This time they took your parents! Can you save them in time?
Save your parents and defeat the dark mage.
Find beasts to display in your Bestiary.
Collect dozens of Achievements.
Enjoy beautiful concept art.
Screenshots:
Click an image to view fullsized screenshot in new popup window
System Requirements:
OS: Windows XP/Windows Vista/Windows 7/Windows 8/Windows 10
CPU: 1.0 GHz
RAM: 512 MB
DirectX: 9.0
HD: 887 MB
Most Popular Games:
TOP ONLINE GAMES:
Are you like?
Try this game: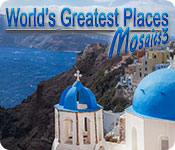 World's Greatest Places Mosaics 3